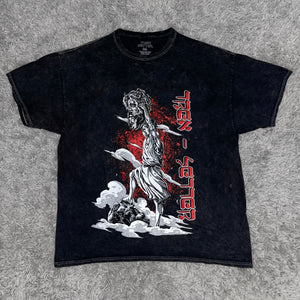 GOLIATH BEHEADED - ACID WASH TEE
Note: This drop fits shorter than the other tshirts due to the acid-wash procedure that was used to get the vintage texture; no two garments are the same - SIZE UP FOR BEST FIT.
"This day the Lord will deliver you into my hands, and I'll strike you down and cut off your head. This very day I will give the carcasses of the Philistine army to the birds and the wild animals, and the whole world will know that there is a God in Israel. All those gathered here will know that it is not by sword or spear that the Lord saves; for the battle is the Lord's, and he will give all of you into our hands."
- 1 Samuel 17
The Beheading of Goliath, the Philistine Giant.
Designed by Jon Skywalker
Made in the U.S.A.