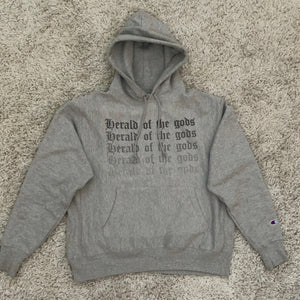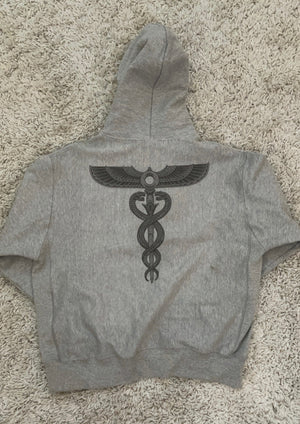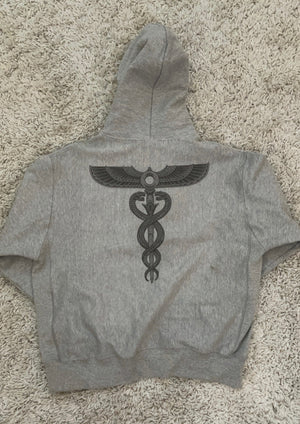 HERALD OF THE GODS - REVERSE WEAVE HOODIE
THE CADUCEUS, staff of 

HERMÈS -

 HERALD OF THE GREEK GODS.
This classic legendary design is now available on the most comfortable, highest quality hoodie known to man - Champion Reverse weave.
Only 75 made.
Cold hand-wash only.
ABOUT:

THE STAFF OF HERMES
The caduceus (☤; /kəˈdjuːʃəs, -siəs/; Latincādūceus, from Greek κηρύκειον kērū́keion "herald's wand, or staff") is the staff carried by Hermes in Greek mythology and consequently by Hermes Trismegistus in Greco-Egyptian mythology. The same staff was also borne by heralds in general, for example by Iris, the messenger of Hera. It is a short staff entwined by two serpents, sometimes surmounted by wings. In Roman iconography, it was often depicted being carried in the left hand of Mercury, the messenger of the gods, guide of the dead, and protector of merchants, shepherds, gamblers, liars, and thieves.
Liddell and Scott, Greek-English Lexicon; Stuart L. Tyson, "The Caduceus"
FEATURES:
•Classic Champion unisex fit with signature ribbed stretch side panels for mobility.
•15oz. 78% cotton, 22% polyester
•Reverse Weave fleece is cut on the cross-grain to resist shrinkage.
•3¾ " wide 1x1 ribbed knit cuffs and 1x1 rib at underarm, sides and bottom hem.
•Self-fabric, two-ply hoodie.
•Embroidered Champion logo on left cuff.
•Four-sided sewn down label.
Sizing (inches):
| | | | | | |
| --- | --- | --- | --- | --- | --- |
| Sleeve Length | 36 ½ | 37 ¾ | 39 | 40 ¼ | 41 ½ |
| | | | | | |
| --- | --- | --- | --- | --- | --- |
| Body Width | 22 ¾ | 24 ¾ | 26 ¾ | 28 ¾ | 30 ¾ |
| | | | | | |
| --- | --- | --- | --- | --- | --- |
| Full Body Length | 27 | 28 | 29 | 30 | 31 |