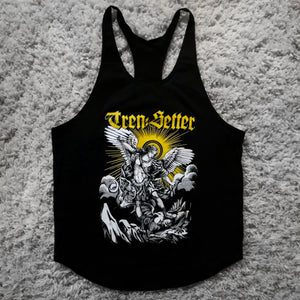 SATAN SLAIN - CLEAN CUT STRINGER
The latest and greatest design from Skywalker's Selection - I proudly present the Satan Slain Stringer. Depicted is the greatest battle of the Eons: 
"Michael and his angels fought against the dragon, and the dragon and his angels fought back. 8 But he was not strong enough, and they lost their place in heaven. 9 The great dragon was hurled down—that ancient serpent called the devil, or Satan, who leads the whole world astray."
Revelation 12:7–10
Designed by Jon Skywalker
Made in the U.S.A.
ELONGATED CUT.
Ships in 2-3 business days. 
STRINGER SIZING:
S - CHEST: 40-42, LENGTH: 29
M - CHEST: 42-44, LENGTH: 30
L - CHEST: 44-46, LENGTH: 31
XL - CHEST: 46-48, LENGTH: 32