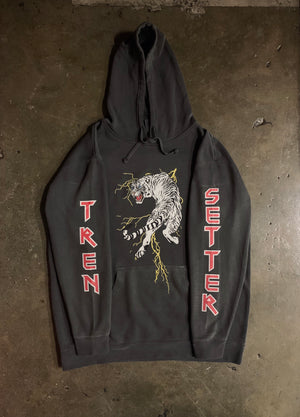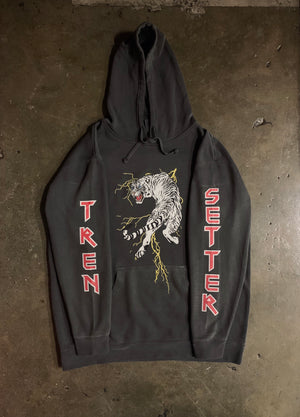 TREN SETTER - VINTAGE DYED HOODIE
16oz, long-sleeve cotton fleece hoodie in a unique pigment dyed black. Large printed TREN SETTER graphics at front and sleeves. Kangaroo pocket. 1x1 Rib-knit at cuff, neck, and waistband. Sewn eyelets. 
• 80% Cotton, 20% Polyester
• Machine Wash at 30° with like-colored garments.
• Fits true to size.
• Designed & Styled by Jon Skywalker.
SIZING CHART:
| | XS | S | M | L | XL | 2XL | 3XL | 4XL | 5XL |
| --- | --- | --- | --- | --- | --- | --- | --- | --- | --- |
| Body Length | 27 1/2 | 28 1/2 | 29 1/2 | 30 1/2 | 31 1/2 | 32 1/2 | 33 1/2 | 34 | 34 1/2 |
| Body Length Tolerance | 1 | 1 | 1 | 1 | 1 | 1 | 1 | 1 | 1 |
| Chest Tolerance | 1 | 1 | 1 | 1 | 1 | 1 | 1 | 1 | 1 |
| Chest Width (Laid Flat) | 20 1/2 | 21 | 23 | 24 1/2 | 26 1/2 | 27 1/2 | 28 1/2 | 30 | 31 1/2 |
| Sleeve Length (From Center Back) | 34 1/2 | 35 1/2 | 36 1/2 | 37 1/2 | 38 1/2 | 39 1/2 | 40 1/2 | 41 | 41 1/2 |
| Sleeve Tolerance | 1 | 1 | 1 | 1 | 1 | 1 | 1 | 1 | 1 |